112 Flares
Made with Flare

More Info

'>
112 Flares
×
***This giveaway is no longer accepting entries. Feel free to read on for 5 Easy and Healthy Toddler Snacks.***
Grady has definitely become a really picky eater these last few months. I'm sure it's just a stage, but it's so frustrating when he turns down a lot of the food that's offered to him. I think the words he says the most are, "I don't like that." Frustrating, right? Thankfully he's got a few foods that he likes that are still healthy. And I can always get him to eat "snacks" over "meals." I'm not sure why, but he turns his nose up at breakfast, lunch, and dinner, even if it's the same foods that I would offer as snacks. Weird. Below are our 5 go to snacks that he'll eat and that get some healthy stuff in him!
5 Easy and Healthy Toddler Snacks
Apple Slices and Peanut Butter – 

This is always a hit with Grady. Sometimes he'll say no to the peanut butter, but he'll always eat an apple. 
Cheese Slices – Grady's not a fan of string cheese, but he'll happily gobble down slices of cheddar cheese. And he loves to dip them in mustard.

Yogurt – Most kids love yogurt in the tube, but Grady's doesn't. He does really like yogurt in a pouch and will even eat just yogurt in a cup. We're partial to coconut milk yogurt so Haley can eat it, too.

Granola Bars – He's not too picky about flavors or brands when it comes to granola bars. He'll even eat my super healthy Lara Bars – actually prefers them. 
Fruit Snacks – We don't buy conventional fruit snacks, but we do buy the healthier alternatives, like the Sprout Organic Toddler Snacks we were sent to review. Always a hit!

Sprout Organic Toddler Snacks Review
Sprout Foods is a line of baby and toddler organic foods that taste great…….and are healthy, too! They just recently came out with a few new products for toddlers and we were super lucky to get to try them out. Grady got to try the Fruit and Veggie Crispy Chews and the Fruity Yogurt Bites. He loved them both – although he always choose the Crispy Chews first.
I love that instead of just a fruit snack, they've got little bits of whole grain rice inside. It's a neat little twist on the classic fruit snack. The flavor combinations are unique, too. And I love that there's no added sugar, preservatives, or artificial colors.
The yogurt bites remind me of freeze dried fruit. Haley and I couldn't try them since they contain milk, but Grady ate them all up. It's not a substantial snack – Grady always wanted more or something else after, but he enjoyed them.
What are your choices for easy and healthy toddler snacks? Have you tried Sprout Organic yet?
Buy it
You can purchase the Sprout Organic Toddler Snacks, like the ones I reviewed, on diapers.com and Amazon (affiliate link)
for $4.99 for a box of 5.
You can use theses coupons, too! One is for Diapers.com and one is for Amazon.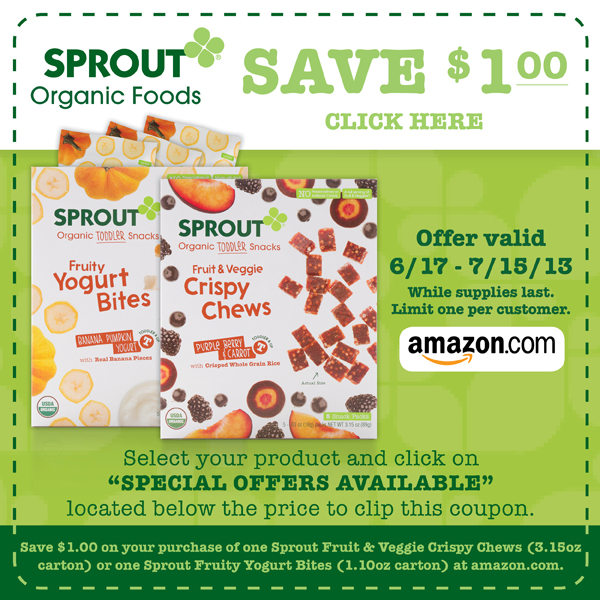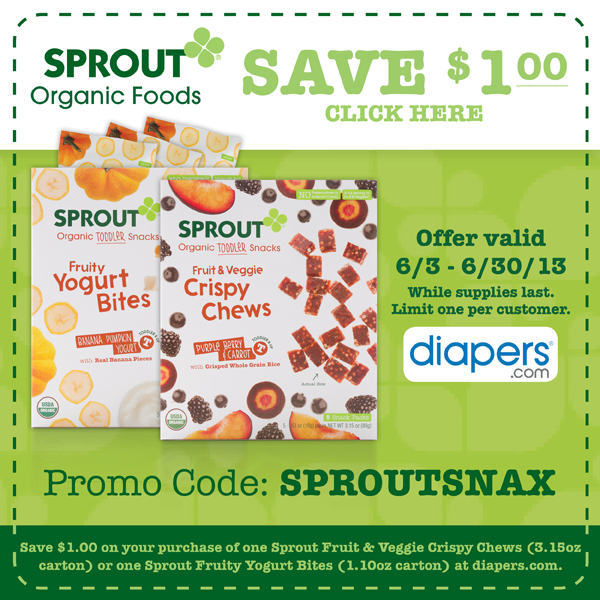 Connect
Check out Sprout Foods on Facebook // Pinterest // Twitter // Instagram
Win it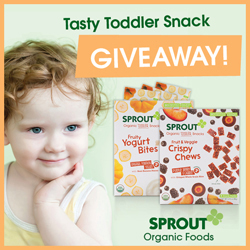 One lucky According to Jenny reader is going to win a sample pack of the new Sprout Toddler Snacks – the yogurt bites and the crispy chews!
Enter below using the rafflecopter form. The first entry is mandatory and then the rest of the entries are optional, but will greatly increase your chances of winning! You can view my official giveaway rules here. Good Luck!
US/CAN 18+, Ends 7/5/13
***This giveaway is no longer accepting entries.***
Winner: Claire R.
I'm required to disclose a relationship between our site and Sprout Foods.  This could include Sprout Foods providing us w/ content, product, access or other forms of payment. Check out the new Sprout Foods website at www.sproutorganicfoods.com
112 Flares
Made with Flare

More Info

'>
112 Flares
×